Do You Need to Replace Your Brakes?


Schedule Service
While most vehicle owner's manuals do not list a specific timetable, drivers should plan to replace their brakes every 30,000 – 35,000 miles. This average will depend heavily on both your personal driving habits and the typical road conditions in your area.
If you're a driver near Harrisburg, Mechanicsburg or Carlisle who recently asked, "Where can I schedule a brake replacement near me?" the team at Faulkner Mazda Service Center is ready to help.
Continue reading to learn more about the importance of inspecting your brakes along with tips on how to stay happy and safe while on the road.
Why Do I Need To Replace My Brakes?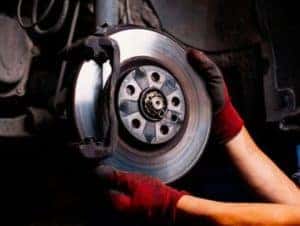 Your brakes are perhaps the single most important safety device found on your vehicle. Knowing this fact, why wouldn't you make it a point to have them regularly inspected by a certified technician?
If you're somehow who uses their vehicle daily or lives in a region that experiences lots of heavy, stop-and-go traffic, your brakes are prone to wear down faster than the manufacturer estimates. To avoid any potential issues from arising, it's a good rule of thumb is to have your brakes inspected every 5,000 –10,000 miles. This can coincide with a routine oil change or tire rotation.
Not looking after your brakes and skipping routine service can quickly lead to several serious problems including:
Poor stopping power
Tire damage
Decreased fuel-efficiency
Alignment issues
How Can I Tell Whether I Need to Replace my Brakes?
We all have at one point or another experienced the sound of squeaky brakes following a heavy rainstorm. While disconcerting, this noise rarely is cause for alarm and eventually will cease once your rotors have time to dry.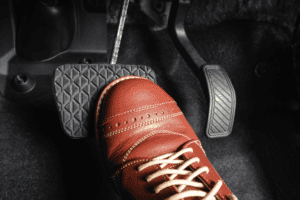 On the other hand, if you to notice a strange sound emanating from your tires when you apply the brakes, it could be a sign you're due for a little maintenance checkup. To avoid an unexpected breakdown or accident, here's a list of some common signs you need to replace your brakes:
Squeaking. If your brakes start to make a high-pitched squeak each time you slow down, it most likely means you brake pads have worn below a safe level and need to be replaced.
Grinding. The sounds of metal rubbing against metal is enough to alarm any driver and should be addressed at the first occurrence. This noise happens when either your rotors are warped, or your pads are completely worn down.
Fading. If it takes you longer to come to a complete stop or your brake pedal is starting to touch the floor when you press down on it, it means your brake fluid is low and needs to be replaced.
Pulling to One Side. If your vehicle pulls to the right or left when you step on the brake pedal, it's a sign that your wheels are out of alignment or your brakes are improperly set.
Schedule Brake Service Today!
At Faulkner Mazda, our team is committed to providing Harrisburg, Mechanicsburg and Carlisle drivers with dependable and thorough care over the life of your vehicle.
If after reading our handy guide, you realize your brakes could benefit from a little professional TLC, simply stop by, call or go online to schedule an appointment.