How to Check Tire Pressure

At Faulkner Mazda, we've been helping drivers throughout Harrisburg, Mechanicsburg, and Carlisle stay safe on the road for decades by providing excellent service and resources at your convenience.
If you're looking for advice on how to check your tire pressure, continue reading our simple guide before scheduling a tire inspection today!
How Do I Check My Tire Pressure?
There's no understating the importance of checking your vehicle's tire pressure at least once per month. Not only is it an easy way to avoid a flat tire, but it also can help you save money at the pump since properly inflated tires greatly improve your vehicle's overall efficiency.
Here are the things you'll need to properly check your tire pressure:
Digital PSI gauge
Your vehicle's owner's manual
Tire pump
Level surface
To save time, you can also visit our service center or stop by any gas station or auto parts center that has an electric tire pump. Often, these pumps will include a PSI gauge.
Once parked in a level spot, consult your owner's manual to find the proper PSI level for each of your four tires. You may also be able to find this information on the inside of your driver side door well.
Once you determine the correct PSI level, remove the cap from each tire's nozzle, insert the digital PSI gauge, and take note of each tire. Using the tire pump and gauge, inflate the tire to its proper PSI level.
It's important only fill your tires up to the recommended level. Over-inflating your tires can in some cases seriously affect your steering and ability to brake. Once you inflate each tire, replace the nozzle caps to avoid air leakage.
Why Should I Regularly Inspect My Tires?
Each month your tires lose around 1 psi (pressure per square inch) just through normal everyday use. Depending on your driving habits and local road conditions this number might fluctuate. While 1 psi drop might not seem like a big deal, it can quickly add up, potentially causing you performance and safety issues.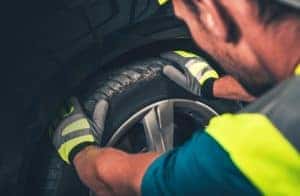 There's another factor to consider when checking your tire pressure – weather. If you routinely drive in cold weather, you'll need to check your tire pressure more often than usual. The reason is simple – on average, tire pressure can decrease by as much as 2psi for every 10 degrees the temperature drops.
If you drive a modern vehicle, it most likely comes with a Tire Pressure Monitoring System (TPMS) which constantly monitors your tires. If at least one of your tires dips below a safe level, this system will send an alert to your dash. It's important to remember that while this is a convenient tool, you shouldn't rely on it and still need to manually check your tires.
Schedule Tire Service Today!
Whether you need simple maintenance or a full replacement, the team of friendly professional at Faulkner Mazda Service Center is here to help. Supplying both the resources and expertise, they can quickly diagnose any issue you're facing and have you back on the road in no time.
To get started, simply stop in during service hours or go online to schedule an appointment today!