Mazda CX-3 vs Honda HR-V

As residents of Harrisburg, Mechanicsburg, and Carlisle gear up for their next car-shopping adventure, the chic style and practicality of the subcompact SUV may capture their interest. Crossover utility vehicles like the Mazda CX-3 and Honda HR-V are some of the hottest cars on the market today.
In this Mazda CX-3 vs. Honda HR-V car comparison, you'll learn all about two popular options in this segment. Which suits your style and needs best? Read on to find out! Drop us a line at Faulkner Mazda when you're ready to learn more.
CX-3 vs HR-V: Exterior Features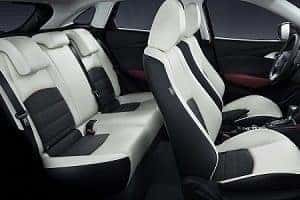 The first quality you (and anyone else) will notice about the CX-3 and HR-V is the exteriors. The Honda SUV features handsome styling, including a sloping roofline and curved side contours for a hint of sportiness. It may not turn every head, but its shapely curves and a new color (Aegean Blue Metallic) give it a modern feel.
If the HR-V hints at sportiness, the CX-3 goes all out. Its long hood, windswept cabin, and subtle contours on the sides are all evidence of the Mazda KODO "Soul of Motion" design philosophy. It meets the Mazda challenge to breathe life into every car with its dynamic shape and athletic, planted stance.
Interior Features & Style
Slide into the cabin of the Mazda CX-3, and you'll notice the quality materials right off the bat. Even in the base Sport trim, the monotone black cloth looks stylish, but the Grand Touring trim's leather seating with Lux Suede inserts really seals the deal, with two-tone beige/black and black/gray colors for eye-catching contrast.
The Honda HR-V features a classy and well-made interior, with standard black cloth contours and available gray leather upholstery. The cleverly-designed center stack offers some eye candy to look at, but the HR-V doesn't quite live up to the CX-3 in terms of design detail and dynamic color contrasts.
Mazda CX-3 vs Honda HR-V: Engine Performance Specs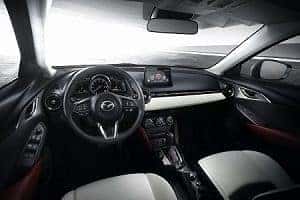 Under the hood of the HR-V, you'll find a 1.8L 4-cylinder engine that makes 141 horsepower and 127 lb-ft of torque. That's adequate for most driving situations, although you may need to do a bit of coaxing to help it climb steep hills or get up to highway speed.
The CX-3 is powered by a 2.0L 4-cylinder that test drivers have found peppy out on the road, due to immediate and linear throttle response. You'll get up to 146 horsepower and 146 lb-ft of torque from this engine, a slight improvement over the HR-V.
Both rides offer available all-wheel drive (AWD), a useful feature if you want to maintain traction with the road when winter rolls around. By deliver power to all wheels, the CX-3 and HR-V stay more firmly planted on snow- or ice-covered roads.
Mazda CX-3 vs Honda HR-V: Make Your Choice
We hope you enjoyed reading our car comparison, and that you found the Mazda CX-3 vs. Honda HR-V matchup exciting. These are certainly both solid entries in the subcompact SUV segment. We invite you to schedule a test drive of the CX-3 at Faulkner Mazda if you live near Harrisburg, Mechanicsburg, or Carlisle.
Both SUVs can get the job done. If you see cars as an art form, and you want to enjoy a sportier drive with exquisite, luxurious style to match, the CX-3 may be everything you're looking for. Stop by our dealer and find out!