Mazda CX-5 Dashboard Light Guide

With stunning style, impressive performance, and a host of great features, it's easy to see why drivers are so enamored with the 2019 Mazda CX-5. While you're exploring this great vehicle, you may wonder: What do all those dashboard lights mean?
We talked to the technicians at Faulkner Mazda to see what some of the most common dashboard lights mean, and we've got the answers you need! Whether you're exploring Harrisburg, Mechanicsburg, or Carlisle, you'll love our handy 2019 Mazda CX-5 dashboard light guide.
Green Lights
Green lights generally indicate a feature has been engaged or a system is operating. Here are some of the most common green lights you might see.
Seat Belt Indicator Light: This light simply means someone has forgotten their seatbelt. It looks like a person strapped in, so if you see this make sure everyone is buckled up and ready to go.
Lights On Indicator: If you see what appears to be some green headlights on your dashboard, that means your lights are on. It's just a reminder to keep you aware of what's going on with your vehicle.
Orange Lights
Orange lights are used to get your attention and let you know something is amiss. They're a way to alert you to a situation so you can take the necessary precautions.
Electric Parking Brake: If you see a P in a circle with an exclamation point, that means your electric parking brake is still engaged when you're trying to drive. It can also mean something is off with your electric parking system, so make sure everything is operating properly before you head out on the road.
Master Warning Indicator: Have you seen an orange exclamation point inside a triangle? This means a system malfunction has occurred, and your car needs service. If you see this light, contact your mechanic immediately.
Red Lights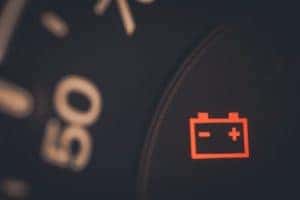 With red lights, you should immediately pay attention. These alerts mean something is wrong, and you should handle it sooner rather than later. Here are some of the red lights on the Mazda CX-5 dashboard and what they mean for you.
Security Indicator Light: If you see a red lock on your dashboard, that means you've left your security system engaged when it shouldn't be. It will keep flashing until you disengage the security system. If it keeps flashing after that, talk to your local service station.
Charging System Warning: Should you see a red battery symbol light up, that means something is not working correctly in your charging system. Contact your service center immediately so they can fix you up and get you back on the road.
Check Out The 2019 Mazda CX-5 Today
Now that you've read up on the 2019 Mazda CX dashboard light guide, it's time to see it up close and personal at Faulkner Mazda today! Head on over to our dealership to explore our inventory, speak with our staff, and schedule a test drive in the vehicle of your choice.
We've helped drivers from Harrisburg, Mechanicsburg, and Carlisle, and we can't wait to help you too, so visit us today!