Mazda CX-9 vs Audi Q7

When you're shopping for a luxury three-row SUV, which model will you go for? Many drivers in Harrisburg, Mechanicsburg, and Carlisle find themselves staring down a difficult decision: The 2019 Mazda CX-9 vs. Audi Q7.
Faulkner Mazda wants to help you make an informed decision, which is why we've done the research for you. Read on to see how these two premium SUVs size up in a side-by-side comparison.
Mazda CX-9 vs Audi Q7: Style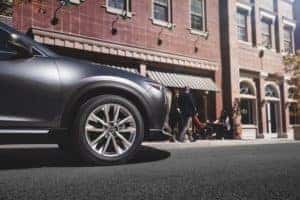 If you were to park the Mazda CX-9 next to the Audi Q7, the former would draw more attention. That's because the Audi has a seemingly uninspired exterior design, with straight lines running along both sides of the vehicle. The Mazda CX-9, on the other hand, is better sculpted from the grille to the taillights.
Even the color options are more exciting in the Mazda CX-9, which stands out with an available Soul Red Crystal Metallic paint job. It's hard to find a vehicle that doesn't offer a red paint job, but the Audi Q7 managed to leave this color out of its options.
Inside the Audi Q7, the infotainment display is similarly boxy and uninspired. The touchscreen in the Mazda CX-9—like many of its interior features—has a sleeker design.
Safety Features
Picture it: You're driving your family home at the end of a long day, after the sun has set. When you reach a curve in the road, the Mazda CX-9 has an available adaptive front-lighting system. This directs your headlights into the turn, giving you a better view of the road ahead.
This nighttime illumination is part of what earned the Mazda CX-9 the title of 2019 TOP SAFETY PICK from the Insurance Institute for Highway Safety (IIHS). The Q7, on the other hand, doesn't offer a similar feature—nor did it receive this coveted title. In fact, the IIHS found the headlights in the Q7 to be inadequate around curves.
Efficient All-Wheel Drive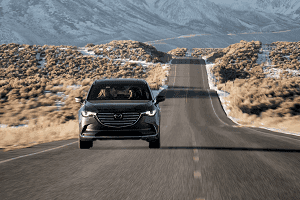 The 2019 Audi Q7 comes standard with quattro® all-wheel drive. A similar system, called i-ACTIV AWD®, is also available in the Mazda CX-9. Both systems constantly monitor road conditions for better traction and improved handling, sending power to the wheels that need it most at any given time.
The Q7 offers this drivetrain with an EPA-estimated 19 MPG city/25 MPG highway. For more efficiency without sacrificing traction, get the all-wheel drive Mazda CX-9. It achieves an EPA-estimated 20 MPG city/26 MPG highway*.
Want even better fuel economy? Front-wheel drive Mazda CX-9 models get an EPA-estimated 22 MPG city/28 MPG highway*. Plus, you can fill the Mazda fuel tank with regular fuel, saving you even more at the pump. The Q7 requires premium fuel for optimal performance.
Mazda CX-9 vs Audi Q7: Conclusion
The Mazda CX-9 looks better inside and out than the Audi Q7, but Faulkner Mazda realizes it's not all about looks. Luckily, the Mazda CX-9 is also more practical: it offers a safer, more efficient ride without sacrificing traction or performance.
What do you think—is this the SUV you want to drive around Harrisburg, Mechanicsburg, and Carlisle? Head to our area dealership to see it for yourself! Contact us today to schedule your test drive.
* Up to an EPA-estimated 22 city/28 highway MPG for 2019 Mazda CX-9 FWD models. AWD models, 20 city/26 highway MPG. Actual results will vary.