Mazda3 vs Ford Focus

A compact car with agile handling can provide you with a great driving experience around Harrisburg, Mechanicsburg, and Carlisle. When that car features a safe design and great style, it takes the drive to the next level.
So, which compact has everything you're looking for in your next car? Faulkner Mazda looks at two great options in this Mazda3 vs. Ford Focus comparison.
Mazda3 vs Ford Focus Safety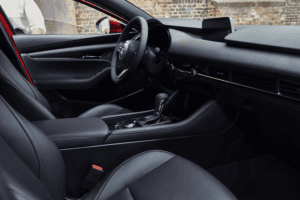 Every area of the Mazda3 was built with safety in mind. You'll be protected by the durable SKYACTIV®-Body. This frame was made out of high-tensile steel that's designed to be both lighter and stronger.
Inside you'll feel in control with Dynamic Stability Control and a Traction Control System on the drivetrain. On top of that, there's advanced front side air bags, front side-impact air bags, and side-impact curtains.
In addition to the air bag system and strong design, there's lots of technology to help prevent an accident from occurring. Some of the driver assistance features include:
Mazda Radar Cruise Control
Lane Departure Warning System
Lane-Keep Assist
Advanced Blind Spot Monitoring
Rear Cross Traffic Alert
You'll also know what's coming when you're driving around a turn, too. The Adaptive Front-Lighting system can pivot its headlights fifteen degrees to help you see around the bend.
With a bundle of technology looking out for you and a solid design, the Mazda3 has been named a Top Safety Pick by the Insurance Institute for Highway Safety (IIHS).
The Ford Focus also features some driver assistance technology, but it doesn't have the same sturdy frame. As a result, it failed to earn the same high marks from IIHS.
Mazda3 vs Ford Focus Passenger Space
The Mazda3 is available as both a hatchback and a sedan. Both styles have seating for five and feature lots of space for passengers to get comfortable.
With a total passenger volume of 96.3 cubic feet, it's a roomy and open interior, especially for those sitting in the second row with 35.8 inches of rear legroom. There's also 53.5 inches of rear hip room and 54.4 inches of rear shoulder room for when you have three backseat passengers.
The Ford Focus offers a more cramped ride. This compact features a passenger volume of just 90 cubic feet inside and the backseat is considerably smaller. Seating three people across feels like a tighter squeeze with 52.8 inches of rear hip room and 52.6 inches of shoulder room. It also has less legroom with only 33.2 inches.
Mazda3 vs Ford Focus Interior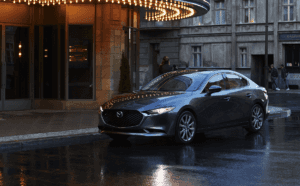 As soon as you take a seat inside the Mazda3, you'll notice that it sports a refined design throughout the cockpit. Perforated leather seats, available in sleek black or refined white, await you. Each one is contoured to mold to your perfect comfort setting every time.
The dashboard has a modern design that features a 7-inch full-color touch-screen on top of it. You can also control the infotainment through the multifunction Commander control dial on your center console.
In front of your leather wrapped steering wheel there's a high-tech Active Driving Display that projects important information about your drive directly in your line of sight. You can see your speed, the speed limit, and navigation without having to take your eyes off the road.
The Ford Focus has more of a sporty design to it. The seats aren't as refined and the dashboard curves towards you, taking up space. It's infotainment system is positioned in the center of the dashboard, but at an angle. There's also no technology like the Active Driving Display.
The Right Car for You
The Mazda3 is clearly an excellent choice for a safe and refined drive around Harrisburg, Mechanicsburg, and Carlisle. Visit Faulkner Mazda to learn more about this Mazda3 vs. Ford Focus comparison and schedule a test drive.