Oil Leaking From a Car


Schedule Service
If you back out of a parking space and see a puddle, or your garage floor has spots on it, you might be wondering if there's oil leaking from your vehicle. Faulkner Mazda technicians provide complete automotive services for drivers in Harrisburg, Mechanicsburg, and Carlisle.
If you suspect oil might be leaking from your vehicle, bring your car to our experienced service technicians. We'll diagnose any issues and solve them, returning you and your car to the roadways as soon as possible.
Is My Car Leaking Oil?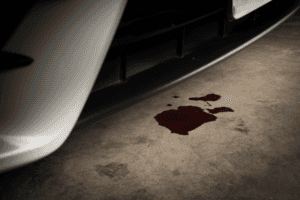 If you see a puddle or splotches in your driveway or garage, your first thought might be that it's an oil leak. It could just be condensation from using your air conditioner, but it may also be engine oil. Oil is what lubricates the pistons in your engine, ensuring your car is able to travel smoothly on the roadways. If the engine isn't being properly lubricated, it can struggle to work properly.
Oil has a brownish color to it and might be emitting a gassy or burnt odor. If the puddle is black in color, that could also be oil but would lend one to believe that an oil change has not been completed in some time. Waiting too long to change the oil can end up damaging oil seals and gaskets, so it's important to receive regular oil changes to prevent this from occurring.
Can a Car Leak Oil After Oil Change?
A car can leak oil after an oil change, particularly if the drain plug hasn't been fastened correctly. When the oil is changed, a new filter should be added. The drain plug, which goes into the oil pan, will be placed back in the oil pan after old oil has been changed out.
A small amount of oil might be dripping after an oil change is completed, but there shouldn't be any sign of a leak after a few hours. If the car has a large puddle after an oil change, it needs to be looked at. The drain plug might not have been fully tightened, or there may be debris caught between the drain plug and oil pan. We'll inspect all components to ensure the oil was properly changed.
Complete Service and Maintenance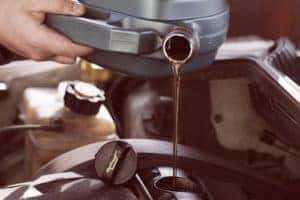 Turn to our experienced service technicians for comprehensive vehicle maintenance. Generally speaking, an oil change should be completed every 5,000-7,000 miles, though some vehicles may be able to last longer, particularly if synthetic oil is being used. If you smell oil inside the cabin or the engine is making loud knocking noises, these are sure signs the oil needs to be changed.
Beyond the oil, our service center will take care of tire rotations, alignments, transmission repair, brake pad replacement, and a whole host of other services. Schedule service online today.
Solving Your Car's Oil Leak Issues
If you suspect your car is leaking oil, bring it to Faulkner Mazda today. Our experienced technicians will ensure your car is safe to drive around Harrisburg, Mechanicsburg, and Carlisle and perform an oil change if needed. Don't let a leak go unchecked! We're here to assist you.