Where to Ring in New Year's Harrisburg PA

As the year draws to a close, it's only fitting that you celebrate it in style—whether that's with music, dancing, good food/drinks, or all the above.
With so many events occurring in the Harrisburg area, you may not know where to celebrate. Fear not, as we've compiled a thorough list.
Keep reading to learn where to spend New Year's Eve in Harrisburg, PA.
Appalachian Brewing Company: Serving Innovative Ales & Cuisine
Appalachian Brewing Company is one of the largest brewpubs in the United States. It's located in a previously abandoned 100-year-old building that was completely restored in 1997.
However, their footprint isn't limited to the one building. In fact, they operate eight brew pubs, four of which have their own small-batch craft beer brewery. They also operate two full-scale operations with a large centralized brewing facility in the Harrisburg, PA location and a mid-sized brewery and Craft Soda Works manufacturing facility in Mechanicsburg, PA.
They host lots of events throughout the year, including the 717 Tattoo New Year's Eve! You'll enjoy music from such acts as Medusa's Disco, Hot Jam Factory, and Blind Accuracy. Tickets are $10 at the door and include special prize giveaways including Tattoo gift certificates and show tickets.
Learn more on the Appalachian Brewing Company Facebook page.
Harrisburg Midtown Arts Center: For All Your Music, Art & Culture Needs
The Harrisburg Midtown Arts Center (H-MAC) is a 34,000-square-foot multi-venue arts and entertainment complex. Between The Stage on Herr, The Capital Room, and The Kitchen & Gallery Bar, you'll get to enjoy concerts, theatrical productions, tasty food, and more.
While there are no specific events happening on New Year's Eve, there's a fun concert occurring the Friday before.
On December 28, you can listen to Live at the Fillmore™, the World's Greatest Tribute to the Allman Brothers Band. The show starts at 8:00 PM in The Capitol Room and is sure to be a fun time for all.
Discover more events happening throughout the year on the Harrisburg Midtown Arts Center Facebook page.
Level 2: For a Unique Nightlife Experience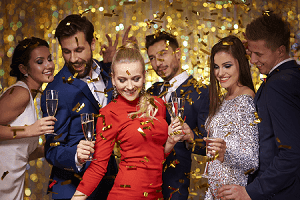 Level 2 is redefining nightlife. With an upscale and innovative environment, it offers a "unique nightlife destination in downtown Harrisburg."
Here, you'll find dramatic décor, a cutting-edge menu, and great service. Plus, bottle service and a VIP experience mean that you and your friends will be entertained all throughout the night.
We're sure you'll be excited to celebrate the new year, and Level 2 wants to part of that anticipation. That's why they're hosting a fun-filled New Year's Eve party. You'll dance all night to music from Jay Velar. You'll also receive free hors d'oeuvres and a champagne toast to properly ring in the new year.
You can get more info about this event and other ones during the year on the Level 2 Facebook page.
Get Ready for a Happy New Year in Harrisburg PA
New Year's Eve will be here before you know it. Are you ready to celebrate it properly? If not, then buy your tickets to any of the above events today!