Why Is There Oil Leaking From My Car?
You wake up and you're ready to have an awesomely productive day. However, when you head to your car, you notice a puddle underneath it – it's oil. Leaking fluids from your vehicle is never a good sign and can cause some serious panic. However, if you know why your car is leaking, oil, you can fix the issue quickly.
To help drivers in the Harrisburg, Mechanicsburg, and Carlisle area, Faulkner Mazda has created this informative guide. Below, you will find possible causes for oil leaking from your car, as well as what steps to take next.
Oil Leaking from the Car? Let's Find Out Why!
Faulty Piston Rings & Valves
One of the most important parts of your engine is called the combustion chamber. This allows your engine to run to the best of abilities and is crucial in allowing it to work properly. Oil is supposed to steer clear of this area and does so with the help from pistol seals and valve seals.
However, if these elements are not tight enough or are broken, oil can sneak its way into this chamber, causing it to burn. Although you may not be able to see an oil spot under your car, this is still considered a leak as your oil is going to a place where it shouldn't.
To assess this problem properly, take your vehicle into an authorized dealer for assistance. They will be able to replace or repair your piston rings and valve seals, as well as see if there are further issues under your hood.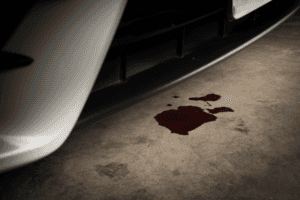 Holes
One of the most common culprits of oil leaks are holes in your gaskets, seals, the oil pan, and many other places. Unfortunately, this can happen in even the newest equipment for what seems like no reason at all. However, it's usually caused by high heat or excessive driving.
These issues can be easily fixed by replacing the components where the holes have formed or by sealing them up, so no oil will leak through. Schedule an appointment with a certified service center to see how they can help.
Broken Dip Stick Tube
We all know the dipstick is how you check to see if your oil is clean and if you need to add more. The dipstick tube is where this device calls home and if this piece has broken or developed a rupture, it can amount to oil leaking from your vehicle.
Good news, this repair is fairly seamless at your local service center. Even if they have to order the part, you should be able to get back on the road in no time with no oil leakage.
Receive Oil Leak Repair in Harrisburg, Mechanicsburg, & Carlisle
If your car is leaking oil, the best thing you can do is get into a service center right away. At Faulkner Mazda, our service department is fully equipped to diagnose the issue and repair it, so your car can be safe to drive again.
You can make an appointment by using our online scheduling tool or by giving us a call today.